Kids Zone
KIDS ZONE
The younger guests are as important to the hotel as every other guest and our family-friendly team here at the Shearwater Hotel & Spa, will be sure to keep your little ones entertained in our Kids Zone Club
Our kid's Zone Club caters for "Tots to Teens " and includes something for everyone with games and activities, arts and crafts, story time, Movie Night and so much more! October Midterm Break.
Opening Times October Midterm Break Package
For the October Midterm Break our club will operate two sessions an AM (9am-12 noon) & PM session (4pm-8pm), for children that are on our midterm bedroom package.
There will be a limited number of children in each session, it is advised to book as soon as possible.
Am Session 9am- 12pm:
Children will dine for Breakfast with their parents before the club starts at 9am.
At 10.30am the Kids Zone will provide a light snack of Fruit Kebabs, Cookies & Finger Sandwiches, which will keep the little ones going until collection time at 12 noon.
Your little ones will have amazing adventures at our Kids Zone.
PM Session 4pm – 8pm:
Children will dine with our kids zone staff for their main course evening meal at 5.45pm. Dinner orders will be taken upon entry to the Kids zone and any dietary requirements must be given by each parent.
If your little ones do not want to participate in kids zone but have this included in your package then a voucher will be provided for the children to dine in the bar/restaurant with you. This request can be made with our reception team.
Club Rules & Regulations
All Children must be aged 4yrs+ to attend the Kids Zone Club.
Parents must sign their children in and out of each session of the club they are attending. Under no circumstances will children be allowed to leave unless they are accompanied by a parent or guardian.
Food order must be given when signing in during evening registration. A sample of our kids zone menu can be found here.
Kids club staff are trained to supervise toilet-trained kids, between the ages of 4-16.
Parents cannot remain in the kidszone while in process. It is a drop off and collection zone.
Phone numbers will be obtained during the registration of the children to kids zone staff and should our team need to contact you they will via telephone.
Parents should be informed of the pickup times and finishing times for kids club booked for functions (christenings, weddings, communions, etc) and these times must be adhered to for rostering staff.
Kids Zone not Included in your Package? No problem!
Our club will operate two sessions an AM (9am-12 noon) & PM session (4pm-8pm),
Pricing for Kids Zone if it is not included in your package is as follows:
AM Session 9am-12pm
First Child - €13.50 with a small snack provided at 10.30am in the Kids zone
Second Child- €12.50 with a small snack provided at 10.30am in the Kids zone
Third Child- €11.00 with a small snack provided at 10.30am in the Kids zone
Family Package of Four Children - €40.00 with a a small snack at 10.30am in the Kidszone
Afternoon Session 4pm-8pm
Pricing for Kids Zone if it is not included in your package:
First Child - €15.00 this includes a Main course dinner in the Kids zone
Second Child: €13.50 this includes a Main course dinner in the Kids zone
Third Child: €12.50 this includes a Main course dinner in the Kids zone
Family Package of Four Children - €45.00 - this includes a main course for each child in the Kids zone
Halloween Timetable:
A Sample of the AM Kids Zone Residents Session can be found below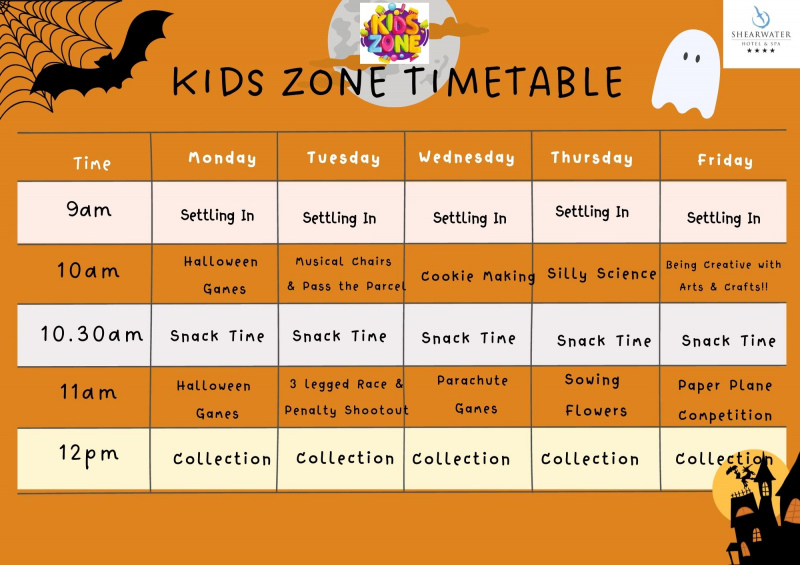 A Sample of the PM Kids Zone Session can be found below