Dining in the Shearwater Hotel
Regardless of what you are in the Mood for we can cater for it here at the Shearwater Hotel & Spa.
RE-OPENING FOR FOOD :
We are re-opening for Food on the 29th June following the Guidelines from the Government and HSE. We will have table service only and if you wish to make a booking please call 09096 30400. Strict guideline on social distancing will be emplemented in the property.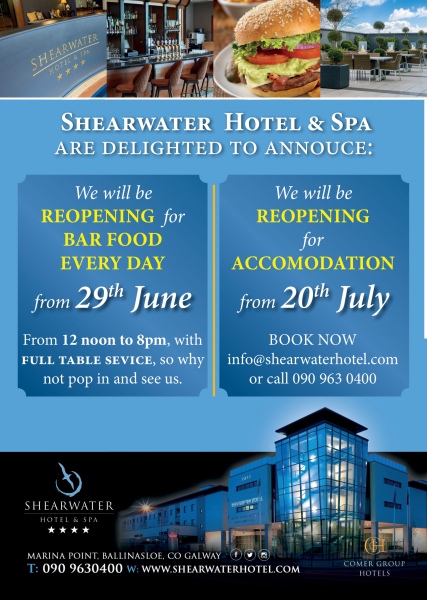 Our Canal Bar Bistro opens daily (Monday - Saturday) 12pm - 9.00pm, serving a delicious menu from steak to fish with great selection of wine & beer.
Sunday Dining : 4.30pm - 9pm in our Canal Bar
WE HAVE LOTS OF DINING OFFERING FROM THE SHEARWATER HOTEL & SPA
In our Restaurant, we cater for Breakfast, Private Dining and Group bookings. Our Extensive Breakfast selection offers a choice of traditional Hot Breakfast Buffet or Continental Selection. Breakfast is served from 7am - 10am Weekdays and 7am - 11am Saturday & Sunday.
Our award winning Carvery served in our Restaurant is open Sunday Only from 12.30 to 4.30pm. We serve hot daily dishes, freshly prepared sandwiches & soups with an extensive salad bar.
Our Kitche3n Team offer a Wealth of culinary expertise and professionalism ensuring that the Shearwater Hotel & Spa is recognised for its superior quality of food and service. Menus are created unsing the best of our locally sourced products.
Dine times at Canal Bar - Monday - Saturday 12pm - 9pm / Sunday 4.30pm - 9pm
We look forward to welcoming you call us today on 090 96 30400 and we will be delighted to reserve a table for you.
Bar & Bistro Menu - Click on the Link
AFTERNOON TEA IN OUR LIBARY LOUNGE - Click on the Link For your Meun offering -